"Whoa -ohhhh. I want some more. Whoa - ohhh. What are you waiting for?"
Tyler Glenn is the lead singer of the band Neon Trees.
Click here
to see their music video for the hit song, "Animal." I've seen Neon Trees in concert a few times, and Tyler is one vibrant, energetic frontman!
I recently asked Tyler what he likes to read. Tyler tweeted me, "i read biographies...chelsea handler, tina fey, steven tyler, keith richards...all fascinating reads."
I have read Chelsea Handler's books;they are too funny! And Tina Fey's
Bossypants
is on my To Be Read pile, too. Here's a pic of me, Tyler, and Neon Trees bandmate, Brandon!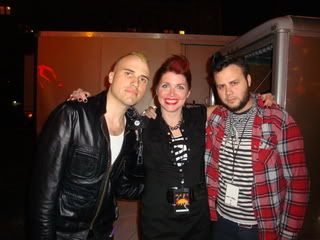 Find out more about Neon Trees at
their website
.