TRUE BLOOD EDITION
You know I love me some
True Blood
, so I'm excited to share with you my favorite werewolf's fave read.
6'5" Joe Manganiello plays Alcide on the hit HBO show. The
True Blood
season finale was last night, and it was crazy awesome as usual. It's going to be a long wait til the next season in June!
According to the September 5 issue of
Us Weekly
, Joe listed that his favorite book is
The Fountainhead
by Ayn Rand in the magazine's article "25 Things You Don't Know About Me."
Brawn AND brains. Sexay.
You can follow Manganiello on Twitter
HERE
. Click
HERE
to read a recent interview from
The Huffington Post
. In this interview, the classically trained actor discusses his upcoming movies including his next role as a male stripper in a Steven Soderbergh film,
Magic Mike
.
Photo from
Ronald Woan
.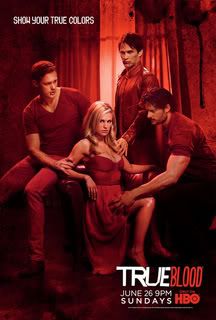 I also recently asked Anna Paquin (Sookie Stackhouse on
True Blood
) on formspring.me what she is currently reading. Her answer? "My scripts. Thank you!"
I'm sure Hollywood is throwing all kinds of scripts at this talented Oscar award winning actress.
Looks like this Truebie will be cracking out the next
Charlaine Harris book
to get my fix til next summer.