John Taylor is the bassist for the popular British band Duran Duran. I had their posters on my bedroom wall in junior high. This was one of them.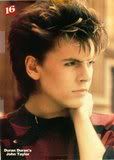 I've seen Duran Duran live many times and will continue to go see them on tour. Yes, this rocker girl is a Duranie.
Sixth grade me was screaming when John told me what he is currently reading. "I recently got turned on to
The Slap
," JT tweeted me.
The Slap
is by Australian author Christos Tsiolkas.
From Barnes & Noble:
"
Winner of the 2009 Commonwealth Writers' Prize, Christos Tsiolkas's The Slap is a riveting page-turner and a powerful, haunting rumination on contemporary middle-class family life. When a man slaps a child who is not his own at a neighborhood barbecue, the act triggers a series of repercussions in the lives of the people who witness the event-causing them to reassess their values, expectations, and desires."
Duran Duran will be starting their U.S. tour with Neon Trees in just a few weeks. You can find out more about the band at
duranduran.com
.