Sebastian Bach has one of the most powerful voices in rock 'n' roll. Bach is the original lead singer of Skid Row. Skid Row's hits include
"18 and Life"
and
"I Remember You."
I played their two first CDs over and over and over in the early 90's. This Rolling Stone cover was on the front of my bedroom door in my sorority house.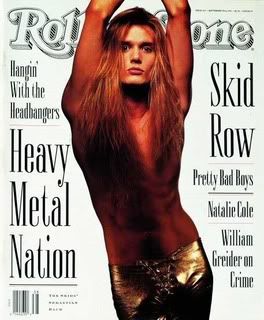 Sebastian Bach is still creating new kick butt music. His newest
album
dropped on Tuesday. Sebastian has also performed on Broadway, and you may also remember him from his time on
Gilmore Girls
. In a recent interview Bach mentioned that he will also be in the upcoming movie,
Rock of Ages
. Though I would prefer him in the title role instead of Tom Cruise!
I recently asked Bach about his favorite books. He tweeted,
"Favorite book ever is keith richards
'life'
. Also like henry miller
'tropic of cancer'
its like porn without the pictures."
Photo by me.
Now that is some eclectic taste in books! Check out Bach's newest single, "Kicking and Screaming" below!
Find out more about Sebastian at
sebastianbach.com
and follow him on
Twitter
.