C. Thomas Howell has been one of my favorite actors since I was ten years old. He, of course, won me over as Ponyboy in
The Outsiders
. I loved the movie and the book by S.E. Hinton. Ponyboy holds the honor of my favorite literary and movie character of all time.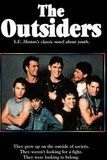 Tommy is also known for his early roles in
Red Dawn
and
The Hitcher
. He's guest starred in over 100 movies and television shows since then. You may have watched his stirring portrayals on
ER
or on
Criminal Minds
as the Reaper. Howell currently guest stars on TNT's show
Southland
on Tuesday nights as hilariously inappropriate Officer Dewey. I started watching this season, and I'm hooked! He can also be seen in the upcoming
The Amazing Spiderman
movie.
I recently asked Tommy about his favorite books.
Tommy answered, "One of my fav books is
The Killer Angels
by Michael Shaara. It's based on the battle of Gettysburg, and it's a wonderful read!"
Howell starred in
Gettysburg
and
Gods and Generals
, both Civil War era movies.
"The other I'd recommend for kids is
The Giving Tree
by Shel Silverstein! A beautiful story that I've loved for years!"
One of my faves, too! Thanks, Tommy!
You can follow C. Thomas Howell on
Twitter here
. He's quickwitted and friendly to his fans. He also banters with S.E. Hinton on Twitter too. Fun stuff.
Photo from @cthomashowell.