Nikki Sixx is a man of many trades. He's the bassist and songwriter of two successful bands (
Motley Crue
and
Sixx: A.M.
). Nikki recently won Best Bassist at Revolver Golden Gods awards. He has his own radio show (
Sixx Sense
) and a clothing line (
Royal Underground
). He's authored three books -
The Dirt
,
The Heroin Diaries
, and
This Is Gonna Hurt
. Sixx threw out the
first pitch
at the Dodger's game last month. He's even been featured
here
before (and will be again if I have anything to do about it!).
What is Nikki Sixx reading?
A few days ago Nikki tweeted, "Finishing
Gregg Allman book
tonight. Great book for fans of the 70's." This autobiography is titled
My Cross To Bear
.
You can follow Nikki on
Facebook
and
Twitter
.
Photo from Nikki's Twitter account.
Here's Nikki and a pregnant me after a
Brides of Destruction
concert.
I was a little starstruck...You can see a better pic of he and I
here
.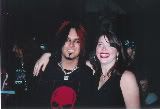 And check out Sixx: A.M.'s single, "Are You With Me Now?"