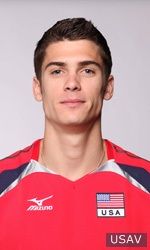 Matt Anderson is a professional volleyball player and a member of the USA National Team. Matt competed in the 2012 London Olympics for the USA Men's Volleyball team (which was my favorite sport to watch this summer.) Matt was named USA Volleyball Male Indoor Player of the Year in 2012 and was the youngest player and leading scorer on the Men's National Team. He was also World League Silver Medalist in 2012. The 6'10 Anderson played volleyball at Penn State as an All-American outside hitter. He is currently playing volleyball for the Russian club team Zenit Kazan.
What is Matt Anderson reading?
Matt tweeted back, "I'm currently reading
Open
by Andre Agassi, I recommend it along with
Jonathan Livingston Seagull
by Richard Bach."
Thank you, Matt! I'm always happy to see athletes reading.
You can find out more about Matt at his
Facebook page
and follow him on
Twitter
.
Photos from Matt's Facebook page and Twitter account.